As an Administrator, you can automatically and manually disable users who are inactive within your network. To set up User Expiration settings, select Settings in the left-side menu.

Under Account Settings, you'll see Press Reviewer Expiration. Here, you can set your users to expire after 60, 90, 120 days, or 1 year of inactivity. If a user does not login within the specified expiration window, that press reviewer will be expired and will lose access to the network's content.

If a time is set, you'll be able to filter your user list by "Active" and "Expired" status on the Users page.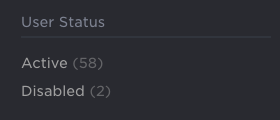 Administrators can manually disable and re-enable users on the User Detail screen. Once re-enabled, a user will have access to the same titles they were previously assigned.