To manage your account settings and customization options, select Settings in the left-hand side menu.
On this page, you can add or manage your watermark templates and your account administrators. Please note only full Administrators can change settings here; Content Managers or Publicists will not have access.
Press Contact

If you would like users to be able to reply to automated Screeners.com emails and speak directly to a press contact at your company, enter a custom reply-to email here. Automated emails from Screeners.com include notifications about Title assignments and Screeners available.
If you choose to leave this blank, all email replies will go to the Screeners.com support team.
Title Defaults
As an Administrator, you can set default watermarking and MFA settings for all your Titles. In other words, any new show created on your domain will default to these settings. Note that Content Managers and Publicists do not have permissions to edit these default settings. For a full list of permissions, see Administrator Types.

Under "Default Watermark Template," you can see a dropdown list of all your watermark templates on the domain. Select one to set it as the default watermark template.
To set your MFA settings, you will see a toggle next to "Default to Require MFA." Toggle it to "YES" to enforce MFA for all your viewers.

If not set by an Administrator, the watermark template will default to Default Template, and MFA will default to "NO."
Manage Administrators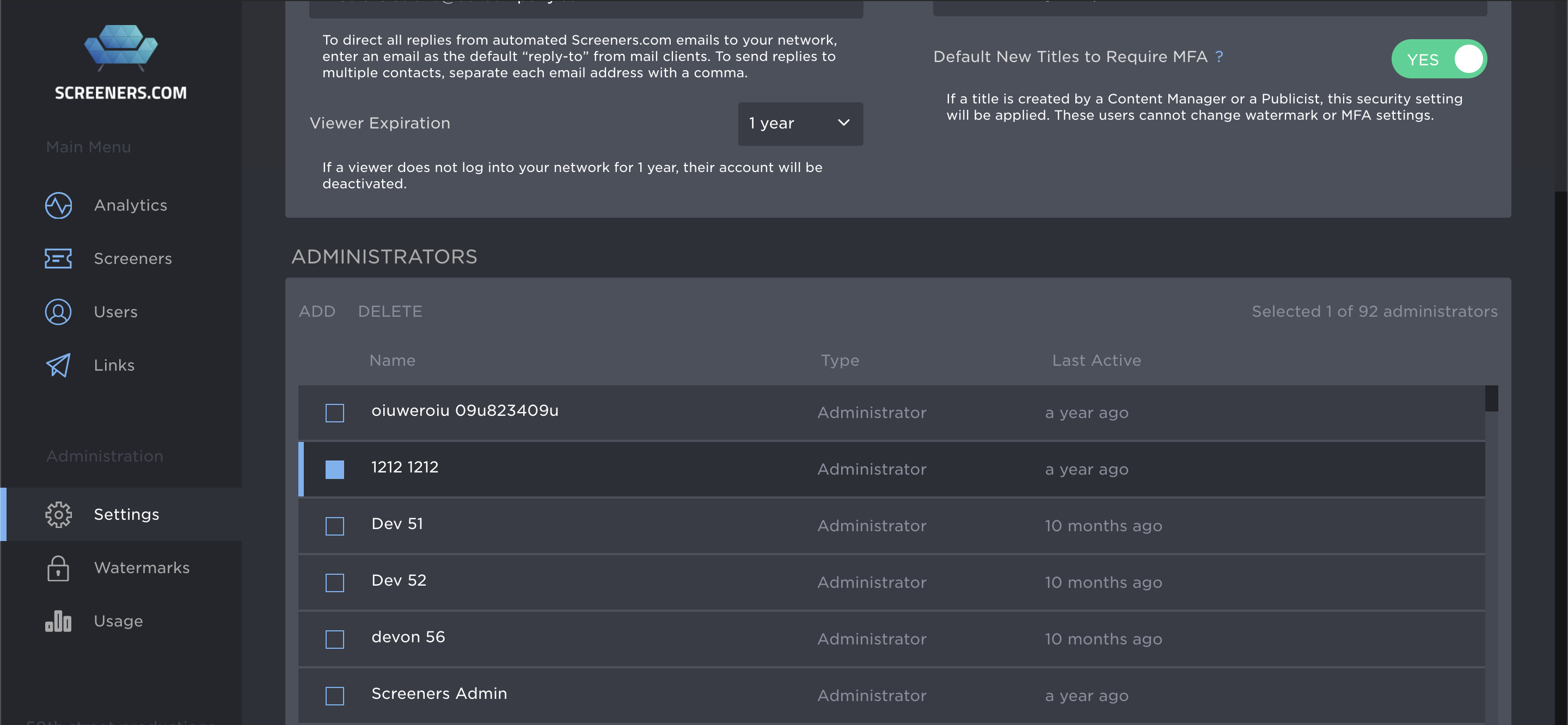 In the Administrators section, you will find a list of account admins. Next to each person's name, you will see their Admin Type: Administrator (full-access), Content Manager, or Publicist. For a detailed list of permissions, see this article.
Editing Permissions
Administrators have the ability to edit each user's permissions. Hover over the user, and click the Edit button on the far-right side. This will open up an editing wizard, where you can assign the Admin Type for that user.
Creating Watermark Templates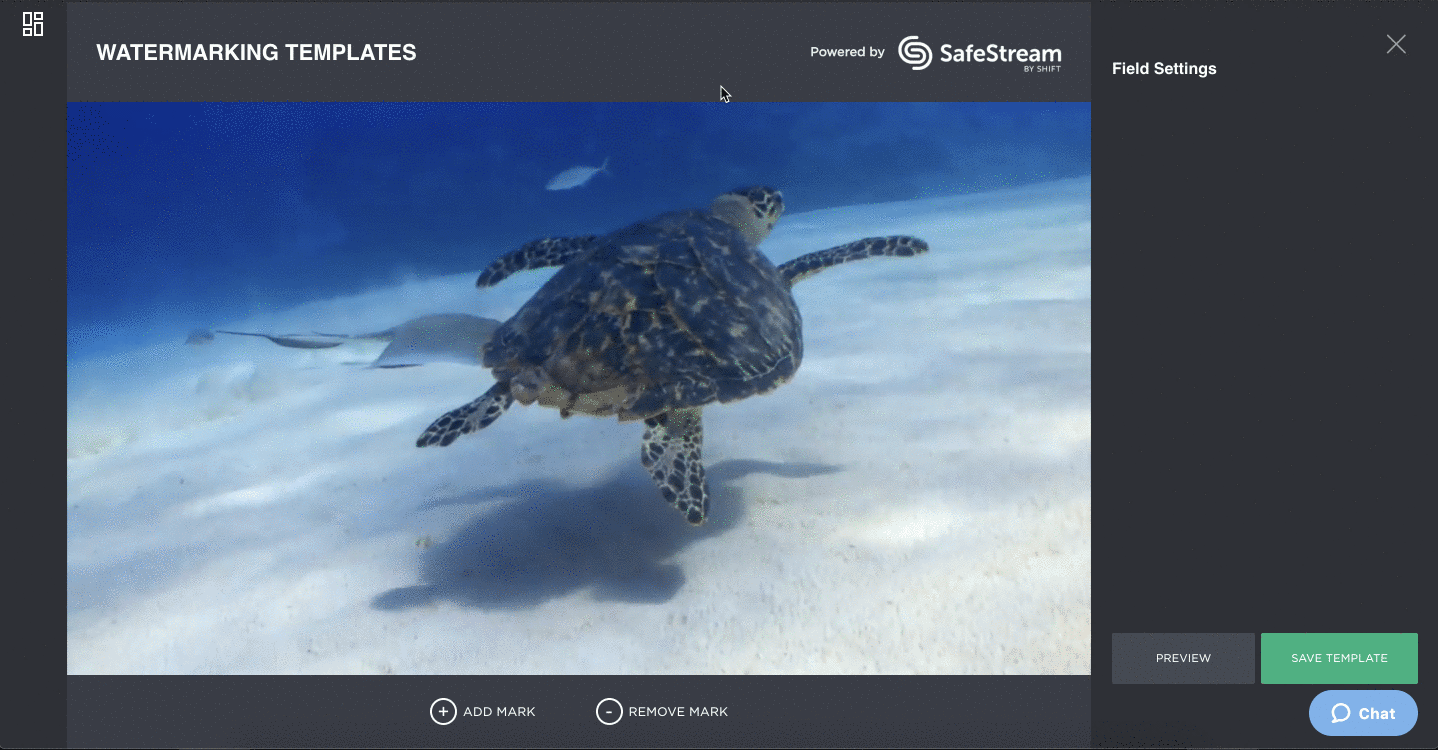 From the Setting page, click Open Watermark Editor to add a new watermark template. You can add and remove watermarks using the buttons below the video preview. Once a watermark is selected, use the right-side panel to customize the text, color, size, and opacity.
Note that you can center-align the text to accommodate different name and email lengths.
Once you are finished editing your watermark template, hit Save Template in the bottom-right corner.
Managing Watermark Templates
Hover your mouse in the top-left corner to expand a menu of all of your watermark templates. Click on any one to make changes to the existing templates. Once you are finished editing, preview it or hit Save Template to save.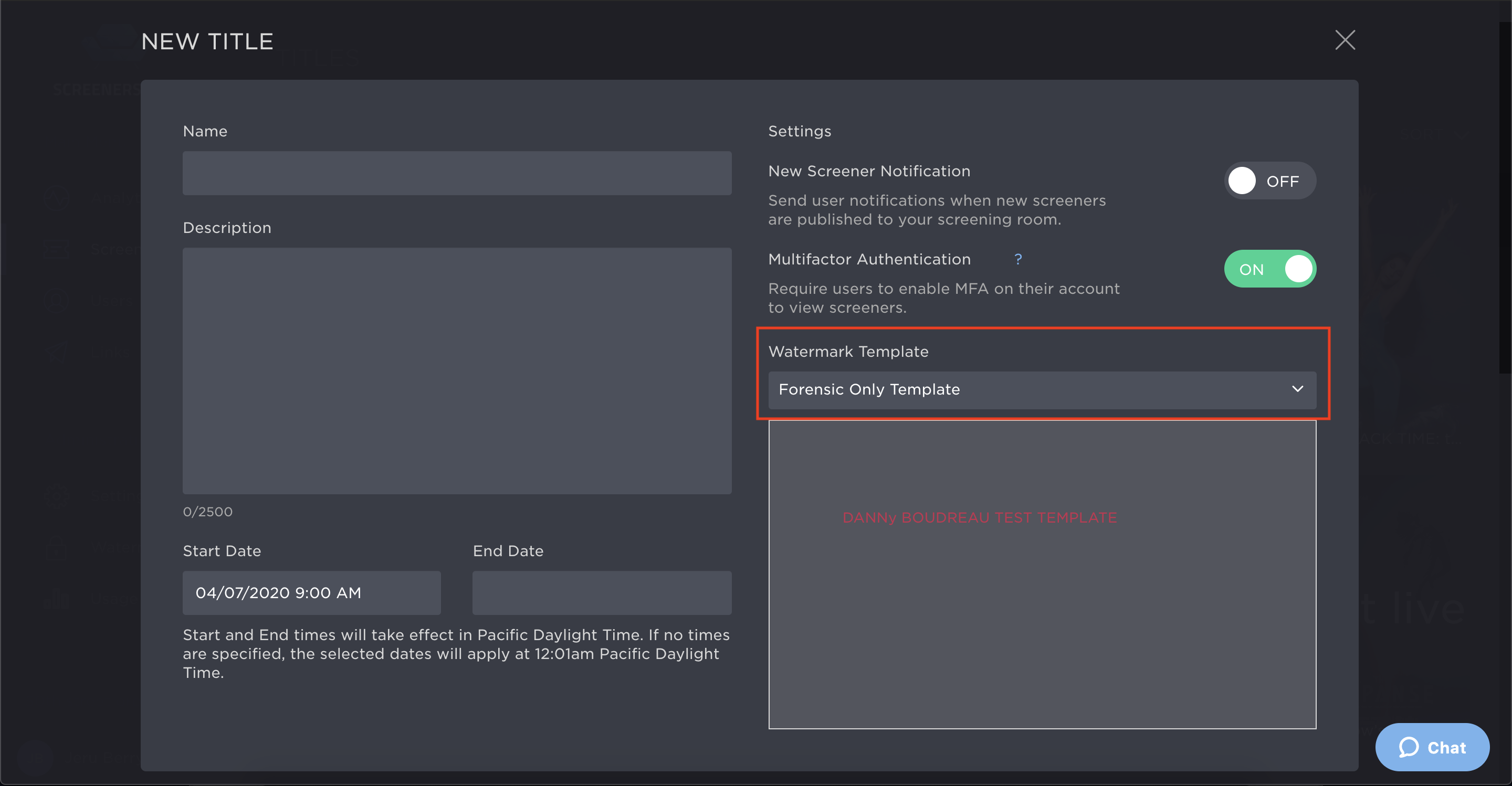 When uploading a new show, you can select from the list of templates you have created. For more information on creating new Titles, see this article.