As we try to make sure you have the best secure screening experience possible. There are times where browsers and device settings get in the way and cause a few issues. One of them is getting a message that a magic link is invalid. Here are the common reasons and solutions to this error.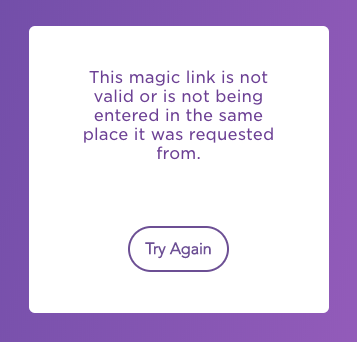 Clear your browser cache: Sometimes you browser holds on to expired content that screeners.com does not like and requires you to manually clear it for a fresh session. Very common in IE and Safari.
Email Security: Some email policies that may have been set by your local IT may block or delay the sending of emails from 'unknown' email addresses "info@screeners.com". Our Magic links are good for 20 mins and usually arrive in seconds (yes, just a few seconds). If you see any delay past 60 seconds. There may be policies in place to delay the send while you security policies check the email content. If everything looks good, only then will it send the email which may be 5, 10, 25mins after your requested it. Solution: Contact your email administrator and ask them to whitelist screeners.com and info@screeners.com.
Cross Browser access: For security, you must request the magic link in the same browser your email normally opens links to. So if you requested the magic link in Safari but your magic link opens in Chrome. You may get an error message as you must open that same link in Safari for example.
Private Browsing: We understand sometimes you don't want to be tracked. However, for the security of the content you are viewing and for the networks, to know that you reviewed the content they sent. A private browser is not supported. Doing so will cause logins to fail or cause error messages during playback.